What is Final Draft?

Final Draft 10 is screenwriting software widely considered to be the industry standard. When you purchase the software as part of a Tuition Package you will receive a substantial discount courtesy of Final Draft.
To learn more about how Final Draft 10 works and the templates that they offer, visit FinalDraft.com.
Do I Need Final Draft For the Seminar?
This software is not required for any of our seminars, but it could be very useful as you go on to apply what you've learned in your writing.
What is Storylogue?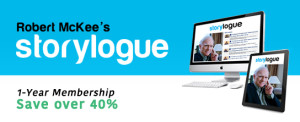 Storylogue is Mr. McKee's online learning library for writers - a writer's practicum. Currently, the site hosts over 1,500 videos that include new lessons (not covered in his STORY Seminar) and interviews between Mr. McKee and prominent industry professionals as well as Q&A sessions between Mr. McKee and students. These videos are excellent research and learning resources and you can preview the videos offered at Storylogue.com.
When purchasing a year's subscription as part of a Tuition Package, you receive a discount of over 40% on the standard annual membership rate. Alternatively, annual or monthly membership may be purchased from the site at any time.
Presently, the site is undergoing a massive upgrade to improve the search functionality but it won't affect your viewing enjoyment.
Can I Register For Someone Else?
Yes, but please ensure that you enter the intended attendee's registration details (First Name, Last Name, Email) so that their registration information and ticket will be sent to the correct recipient.
When you reach the payment screen, you may use your own personal information associated with your chosen payment method.
Can I Register a Group?
You may register as many people as you like, but at this time we ask that you register each person individually. (You can still use the same payment method for each registration).
Group Discounts:
If you're registering 5 or more people, you may be eligible for a discount. See below for details.
Do You Offer Discounts?
Yes! We're pleased to offer several discount categories to help support your learning. Discount applicability varies by event, so check the seminar details.
| Category | Discount |
| --- | --- |
| Groups | 5%-10% |
| Professional Union Members | 20% |
| Students | 30% |
| Alumni | TBD |
| Fellowship | TBD |
Groups
We offer two group discount rates depending on the size of the group. If you register 5 or more attendees, you are eligible for a discount of 5%. Likewise, if you register 10 or more attendees, you may receive a discount of 10% for the group. Email us here with your group's details so that we may confirm your eligibility and provide you with the correct discount code.
Professional Union Members
Members of professional unions (Screen Actors Guild, the Writers Guild of America, etc.) are offered a 20% discount. Email us here and include your Union Membership ID so that we may confirm your eligibility and provide you with the correct discount code.
Students
We're happy to offer students a significant 30% discount to help encourage their education in Story. Email us here with a copy of your Student ID so that we may confirm your eligibility and provide you with the correct discount code.
Alumni
We regularly find that students would like to take a seminar a second time. Perhaps your recent writing experiences have prepared you to gain new insights from the seminar, as different aspects of McKee's teachings become more immediately applicable to your own work. To reward this enthusiasm and to encourage your continued development, we offer a significant Alumni discount (as much as 40% off the regular rate). The applicability of this discount varies by event, so check the seminar details when you register.
Fellowship
If you are interested in this option, please contact us here.
Do I Qualify as an Alumnus?
Our special Alumni rate is based on prior attendance at a McKee Seminar of the same type. For example: If you attended the STORY Seminar in New York last year, you should be eligible for the Alumni rate on all STORY Seminars.
We will check our records to verify previous attendance once we receive your registration. If you are unsure, we encourage you to contact us here and we'll be happy to assist you.
What's a Deposit?
The $100 Non-refundable deposit option allows you to reserve a spot at the seminar. The balance is due two weeks before the seminar. If you do not pay in full by that time, you will forfeit this $100.
;
What's Included in Seminar Tuition?
Your Seminar Tuition includes administrative fees, admission to the seminar, printed materials distributed at the event (such as informative hand-outs), and light refreshments during the coffee breaks.
What Is Not Included?
Seminar Tuition does not include hotel accommodations or meals.
I'm from out of town. Can You Recommend Accommodations?
Los Angeles
We organize a special discounted room rate for our attendees at the Sheraton Gateway LAX where the seminar is held. It's a five-minute courtesy shuttle bus ride between the Los Angeles International Airport (LAX) and the hotel. The discounted room rate is subject to availability. Please consult the seminar details for more information.
For other options near the Los Angeles venue, please click here
New York & London
For our New York and London seminars, please click here for options from budget to high-end hotels.
When Is Your Next Seminar?
Our website always has the most updated information regarding our seminar schedule:
As a general rule, Robert McKee's STORY Seminar is held each spring and fall in LA, NYC and London. The TV DAY Seminar is normally held in LA each spring and in NYC and London as Mr. McKee's schedule will allow. The Storynomics™ Seminar is held in each spring and fall in LA, NYC, and London (time permitting). Please subscribe to our weekly newsletter for regular updates about our upcoming seminars as well as other pertinent, useful tips and pointers for your writing.
I Can Only Attend 1 Day. What Do You Advise?
STORYNOMICS™ Seminar
The STORYNOMICS™ Seminar takes place over the course of a single day, so there's no problem!
STORY Seminar
The STORY Seminar is a 3-day seminar and you need to attend all three days as each of Mr McKee's daily lectures builds upon what was discussed on previous days.
GENRE Seminars
The GENRE Festival takes place over the course of five days and you can choose one or as many days as you wish according to your areas of interest. If you book more than one GENRE Day, you will receive a discount on the additional GENRE Days. Possible GENRE Days are CRIME, COMEDY, LOVE STORY, ACTION and TV SERIES Day.
I May Need to Leave Early. Is that OK?
If you have to leave during the lecture, please leave at one of the breaks. If you are missing an entire day of the STORY Seminar, please ask the event manager so that you may make that day up in a future seminar.
Can I Pay By the Day?
During the GENRE Festival you can effectively pay by the day, as each day is its own distinct GENRE Day seminar. For the STORY Seminar you must attend all three days and therefore pay for the entire seminar.
What Happens If I Have to Cancel?
Seat Deposit
The Seat Deposit option allows you to reserve a spot at the seminar by paying a non-refundable deposit of $100. This deposit will be applied to the full price of your desired Tuition Package, the balance of which will be due two weeks before the seminar at the latest. If you do not register and pay in full by that time, your seat will no longer be reserved.
Seminar Tuition
If you cancel 10 days or less from the event date your full tuition will be forfeited, but you may apply it to a future McKee Seminar of the same type within two years of your first scheduled seminar. If you cancel more than 10 days prior to the event date, you have the option to to apply it to a future seminar within two years, or you can be refunded your money less a fee that will be retained to cover administrative costs. The fee varies based on seminar.
Does Mr. McKee Review / Consult on Screenplays?
Does Mr. McKee Give Private Consultations to Groups / Companies?