STORY + LOVE STORY DAY - London (Fall 2017)
Seminar Details:
Save 10%* when you register for both STORY and LOVE STORY DAY!
*This offer may not be combined with other discounts.
In the intense 3-day STORY Seminar and the LOVE STORY DAY Seminar that follows, Robert McKee teaches the substance, structure, style and principles of Story. Learn how to apply classical story design – the kind that has resulted in masterpieces of all kinds – to your own cinematic, theatrical or literary premise.
The dedicated LOVE STORY session will address the timeless codes of the genre, enabling you to identify and innovate its dramatic conventions. Robert McKee shares a lifetime of narrative insight into a story form that continues to drive publication and performance across books, films, and television.
STORY | Dates: Thursday - Saturday, November 9-11 | Time: 9:00am - 8:00pm
LOVE STORY DAY | Date: Sunday, November 12 | Time: 9:00am - 6:30pm
Venue:
Regent's University
Inner Circle
Regent's Park
London, England NW1 4NS
Map and Directions
Accommodations:
The seminar price does not include hotel or meals. For a list of recommended hotels in the area, please click here. For questions, please email mariah@storylogue.com or call (928) 204-2323.
London Early Bird Registration
Registration Questions?
Wondering which McKee Seminar is right for you? We're happy to help! Just give us a call or send us an email.
What is Final Draft?

Final Draft 10 is screenwriting software widely considered to be the industry standard. When you purchase the software as part of a Tuition Package you will receive a substantial discount courtesy of Final Draft.
To learn more about how Final Draft 10 works and the templates that they offer, visit FinalDraft.com.
What is Storylogue?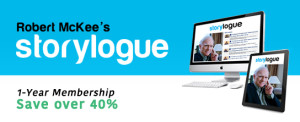 Storylogue is Mr. McKee's online learning library for writers - a writer's practicum. Currently, the site hosts over 1,500 videos that include new lessons (not covered in his STORY Seminar) and interviews between Mr. McKee and prominent industry professionals as well as Q&A sessions between Mr. McKee and students. These videos are excellent research and learning resources and you can preview the videos offered at Storylogue.com.
When purchasing a year's subscription as part of a Tuition Package, you receive a discount of over 40% on the standard annual membership rate. Alternatively, annual or monthly membership may be purchased from the site at any time.
Presently, the site is undergoing a massive upgrade to improve the search functionality but it won't affect your viewing enjoyment.
Can I Register For Someone Else?
Yes, but please ensure that you enter the intended attendee's registration details (First Name, Last Name, Email) so that their registration information and ticket will be sent to the correct recipient.
When you reach the payment screen, you may use your own personal information associated with your chosen payment method.
Can I Register a Group?
You may register as many people as you like, but at this time we ask that you register each person individually. (You can still use the same method of payment for each registration.)
Group Discounts:
If you're registering 5 or more people, you may be eligible for a discount. See here for details.
Do You Offer Discounts?
Yes! We're pleased to offer several discount categories to help support your learning. Applicability varies by event, so check the seminar details for the available discounts. See the full FAQ page for more information.
| Category | Discount |
| --- | --- |
| Groups | 5%-10% |
| Professional Union Members | 20% |
| Students | 30% |
| Alumni | TBD |
| Fellowship | TBD |
Do I Qualify as an Alumnus?
Our special Alumni rate is based on prior attendance at a McKee Seminar of the same type. For example: If you attended the STORY Seminar in New York last year, you should be eligible for the Alumni rate on all STORY Seminars.
We will check our records to verify previous attendance once we receive your registration. If you are unsure, we encourage you to contact us here and we'll be happy to assist you.
What's a Deposit?
The $100 non-refundable deposit option allows you to reserve a spot at the seminar. The balance is due two weeks before the seminar. If you do not pay in full by that time, you will forfeit this $100.
What's Included in Seminar Tuition?
Your Seminar Tuition includes administrative fees, admission to the seminar, printed materials distributed at the event (such as informative hand-outs), and light refreshments during the coffee breaks.
What Is Not Included?
Seminar Tuition does not include hotel accommodations or meals.
I'm from out of town. Can You Recommend Accommodations?
Los Angeles
We organize a special discounted room rate for our attendees at the Sheraton Gateway LAX where the seminar is held. It's a five-minute courtesy shuttle bus ride between the Los Angeles International Airport (LAX) and the hotel. The discounted room rate is subject to availability. Please consult the seminar details for more information.
For other options near the Los Angeles venue, please click here
New York & London
For our New York and London seminars, please click here for options from budget to high-end hotels.