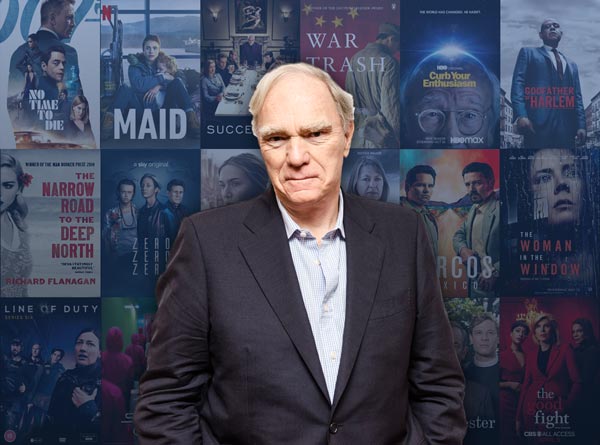 Robert McKee's 2021 "Works/Doesn't Work" Review
Robert breaks down what worked (and didn't work) in some of the stories he's seen throughout 2021 on the stage, page and screen.
Reality had a lousy year, but fiction, fortunately, rode to the rescue. I had many favorites in various categories, but I would like to preface the list with a genuflection of gratitude to the acting profession. Year after year, the international community of actors elevate their art ever higher. Without great acting, writing for screen and stage would not be worth the struggle.
Crime Stories
The Crime genre thrives thanks to the modern audience's willingness to set moral judgments aside and empathize with underdogs. I enjoyed two distinct types: the 'Getting Away With It' series and the 'Catching Them' series.
'Getting Away With It' stories take a criminal's point of view. For me, the top three were GODFATHER OF HARLEM, NARCOS: MEXICO and ZERO ZERO ZERO. The performances by Forest Whitaker and Vincent D'Onofrio in the American series were superb, but it was Andrea Riseborough who made the Italian series absolutely compelling.
MARE OF EASTTOWN and UNFORGOTTEN tell 'Catching Them' stories from a cop's point of view. Kate Winslet's series climaxed on a brilliant reveal, but the fascinating forensics of the ITV series held me episode by episode.
Hideous crimes, such as school shootings, often leave us asking "Why?" THE SINNER uses this fascination with motivation to move in an off-beat direction. We not only see the crime committed but witness the almost immediate arrest of the killer. Where does a crime story go from there? The cop (Bill Pullman) pursues a deeper truth.
Today, Sherlock Holmes seems like a 19th century antique, but British mystery writers know ways to have your Holmes and believe it too. They create teams of detectives whose combined talents add up to one master detective. My wife and I enjoyed GRANTCHESTER, BROADCHURCH and LINE OF DUTY.
Magical Realism
Three excellent series called on Magical Realism to deepen their tellings: THE UNDERGROUND RAILROAD (fantasy with a social purpose), SQUID GAME (the master metaphor for modern life) and THE GOOD FIGHT (the hope that justice still exists…somewhere).
Thrillers
Although a plague of mediocrity has infected Hollywood for years now, these three thrillers worked to good effect: WOMAN IN THE WINDOW, NO TIME TO DIE and UNHINGED.
Comedy and Satire
I enjoy the satire in the SUCCESSION series, but for belly laughs, Larry David, the greatest farce writer since Molière, gave us the eleventh season of CURB YOUR ENTHUSIASM. Then my wife and I discovered the British edition of WHOSE LINE IS IT ANYWAY? Between the UK and US, the 30 seasons of this show's hysterical nonsense has inspired over 500 lunatic episodes.
On Stage
We saw two lackluster plays: Clyde's and Morning Sun. Neither was worth the crawl through Manhattan traffic.
On Page
My late-night novel reading was enriched by three prize-winning tales of lone survival: The Narrow Road to the Deep North by Richard Flanagan, In the Distance by Herman Diaz, and War Trash by Ha Jin.
My favorite for the year was MAID. Inspired by the memoirs of Stephanie Land, the series tells the story of a single mother who escapes an abusive husband, survives by cleaning the homes of hoarders, finds her way through the labyrinth of social services and gets herself into college. I loved it for its honest writing and acting, but most of all, for taking me into a fascinating world I would otherwise never know.