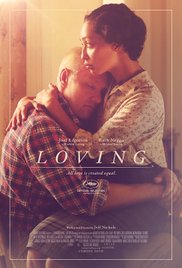 Robert McKee's WORKS / DOESN'T WORK Film Review:
Loving (2016) | Written and Directed by Jeff Nichols
McKee Says: It Works (
Spoiler Alert!

)
HIGH RISK CHOICE OF GENRE:
Character-driven stories fall into six grand categories, each keyed to a distinctive change within the protagonist's nature (his morality, mentality, or humanity) and the direction that change takes him (positive or negative). A change in morality, for instance, creates two often-used genres: the Redemption Plot (bad guy turns good, e.g., THE VERDICT) and the Degeneration Plot (good guy turns bad, e.g., THE TALENTED MR. RIPLEY).
Amongst the various genres that change a character's underlying humanity, the Testing Plot may be the most rare and most difficult. Its suspense hinges on this question: Will he persist or surrender? In other words, what Testing Plots test is willpower. Generally, these stories risk the character's physical survival by pitting his strength of spirit against either the blind violence of Mother Nature or torture in captivity: e.g., ALL IS LOST and 127 HOURS versus UNBROKEN and THE PRISONER (1955).
LOVING risks its characters' inner survival. It tests their strength to maintain a true, undamaged sense of self. The film asks, "Does this couple have the willpower to persist in the face of vicious social antagonisms and ten long years of legal battles? Will they lose their will to love? Will they give up and divorce? Or will they persevere?"
HIGH RISK CHOICE OF POV:
Legal dramas like LOVING conventionally tell their tale from the POV of attorneys fighting for justice. Instead, writer/director Jeff Nichols keeps the courtroom battles off-screen and takes the plaintiffs' POV as they wait on the sidelines.
This choice anchors the drama in the subtext of the characters' inner lives, as events hammer at their will to endure. Needless to say, stories told in the subtext of ordinary people demand extraordinary acting. The performances by Australian actor Joel Edgerton and Ethiopian-Irish actress Ruth Negga as Americans from Appalachia were nothing short of brilliant.
HIGH RISK OF REPETITIOUSNESS:
Even when Testing Plot protagonists battle Mother Nature, the storytelling runs the risk of redundant scenes—struggle, struggle, and more struggle of the same kind. But at least they're visual, cinematic scenes. Thought, on the other hand, cannot be photographed. Repetitiousness becomes an acute danger when willpower combats inner forces of self-doubt, anxiety, frustration, and fear. That LOVING expressed variety, tension, and progression in its quiet faces and places is yet another measure of filmmaking excellence.