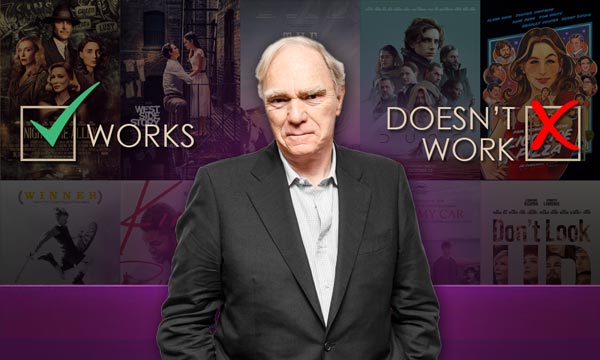 Robert McKee's "Works/Doesn't Work" Review: 2022 Oscars Edition
Robert McKee shares his thoughts on this year's Best Picture nominees:
When I survey the ten Best Picture nominees, the first thing that jumps off the page is an appalling lack of originality. With one key exception, the conventional and rather tired storytelling in the other nine tastes like dessert—sweet and thoughtless. These tellings either recycle the previous century with a frosting of cinematic style or turn the camera away from today's bitter truths. Their one unifying trait is nostalgic sentimentality—Hollywood's only sincere emotion.
1. NIGHTMARE ALLEY
NIGHTMARE ALLEY remade the 1947 film that adapted the 1946 novel of the same title.
2. WEST SIDE STORY
WEST SIDE STORY remade the 1961 film that adapted the 1957 Bernstein/Sondheim Broadway musical that Arthur Laurents adapted from Romeo and Juliet. Shakespeare found his ill-fated lovers in a narrative poem by Arthur Brooke who had ripped off Matteo Bandello, an Italian writer, who had plagiarized Luigi da Porto, also an Italian writer, who had cribbed Masuccio Salernitano, an Italian poet. How far back this literary thievery goes no one knows.
3. THE POWER OF THE DOG
THE POWER OF THE DOG adapted Thomas Savage's 1967 novel of the same title.
4. DUNE
DUNE remade the 1984 film that adapted the 1965 novel of the same title.
5. BELFAST
BELFAST, an autobiography set in the 1960's, won a second nomination for Best Original Screenplay.
6. LICORICE PIZZA
LICORICE PIZZA, an autobiography set in the 1970's, also found its way onto the Best Original Screenplay list.
7. KING RICHARD
KING RICHARD, a biography rooted in the 1990's, like the previous two, double-upped with a Best Original Screenplay nod.
That these last three qualified for Best Original Screenplay nominations seems a bit specious. How can the reprocessing of actual people and their real-life events be thought of as original? These scripts may be well researched and skillfully written, but I've always felt that "original" meant fictional, a spontaneous work of imagination. But then, that's me.
8. CODA
CODA remade the 2014 French film LA FAMILLE BELIER.
9. DRIVE MY CAR
DRIVE MY CAR enriched itself with scenes from Chekhov's 1897 drama Uncle Vanya as it adapted Haruki Murakami's 2017 short story of the same title.
10. DON'T LOOK UP
DON'T LOOK UP by Adam McKay and David Sirota is the only work of genuine innovation. More importantly, it is the only film about the now. And it shows.
This brilliant, sawtoothed satire inflicted pain one moment, laughter the next, all the while holding us in high suspense to climax. It too was nominated for Best Original Screenplay and should win at least one Oscar but probably won't. Of the entire slate of nominees, it's the only one I'd see again.
THE WORST PERSON IN THE WORLD
The fifth film on the Best Original Screenplay list is THE WORST PERSON IN THE WORLD by Eskil Vogt and Joachim Trier. It won a second nod for Best International Film and, it seems to me, deserved a third spot on the Best Picture list. Ah, well…
This film's protagonist, disgusted with her core self as the title tells us, moves from profession to profession, relationship to relationship, trying on identity after identity. None fit. If you intend to write in one of the six character-driven genres, this masterful Education Plot will reward your study.