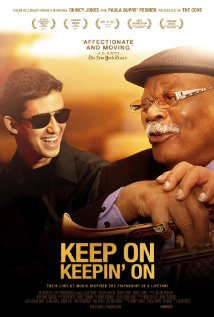 As the title suggests, the biographical documentary Keep On Keepin' On sings a bebop hymn to perseverance. This well-told film portrays the life of legendary jazz artist and mentor of musicians, Clark Terry.
Born in St. Louis in 1920, Clark played lead trumpet for Duke Ellington's orchestra. His brilliant stylings inspired many hopefuls, including a very young Miles Davis and Quincy Jones. Even though his life-long battle with diabetes cost him his eyesight and both legs, Terry, at age 94, still coaches the talented musicians who flock to his Arkansas home.
The film's co-protagonist is one of his students, a blind pianist, Justin Kauflin. Kauflin is a jazz prodigy but plagued with self-doubt, stage fright, and an over active intellect that gets between his feelings and his music. In other words, he keeps thinking himself out of success.
The Major Dramatic Question becomes "Will Terry's musical and psychological mentoring put Kauflin's future on track?" Spoiler alert: It does.
A documentary or fiction about two people who suffer from severe physical disabilities is an open invitation to emotional indulgence. So the writing lesson here is the difference between sentiment and sentimentality; how to express the hard truth of sentiment without wallowing in the mushiness of sentimentality.
Sentimentality delivers outpourings of warm emotion unbalanced by life's negative experiences. Sentiment moves us with beautiful emotions but only after negative events have fully tested the characters. In others words, characters must earn their happy endings.
Study this film to see how Allan Hicks and his co-writer Davis Coombe document the grit and pain in the lives of both protagonists. Kauflin suffers his burdens of blindness, poverty and failure with grace. Clark Terry, in his life and teaching, embodies that rare combination of a heart as loving as sunlight and a mind as tough as Bethlehem Steel.
The key to the satisfying, moving climactic triumph over adversity in "keepin' on" is the protagonists' disciplined dedication to music and their unrelenting persistence in life: sentiment without sentimentality.
Robert Mckee – Jan. 7, 2015