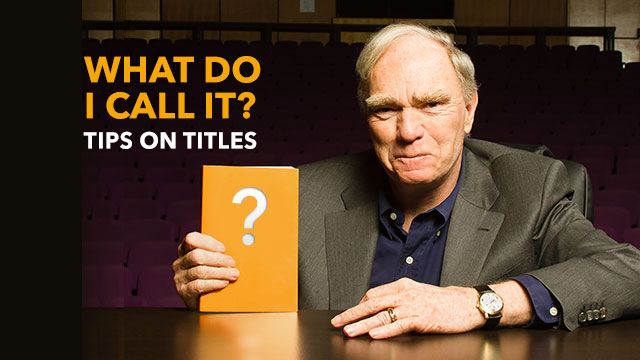 What Do I Call It? Tips on Titles
When titling your work, name something that's actually in the story, so that your audience or reader buys a ticket or a copy with an excited sense of what's to come. You have a choice of three elements: Setting, Character, Theme/Genre. The best titles combine two or three at once.
The recent summer success CRAZY RICH ASIANS names characters, setting, and suggests comedy. The classic JAWS is another title that has all three elements that indicate an Action film of man vs. nature. TV Series titles THE WALKING DEAD, MAD MEN, SIX FEET UNDER, and MADAM SECRETARY contain all three.
READ MORE
MISSION IMPOSSIBLE, STAR WARS and THREE BILLBOARDS, TV Series, SIX FEET UNDER, AMERICAN HORROR STORY, and THE OFFICE show the setting and the theme.
The TV Series titles GAME OF THRONES, AMERICANS, THE GOOD WIFE name characters and theme.
Film titles that have nothing to do with the above three elements are generally art films. A TASTE OF CHERRY, an excellent Iranian film, has nothing to do with cherries, nor is it about eating or tasting. The title is an art movie pretension that simply says — "I am an art movie". So you go to see the film with art movie expectations. Other examples of art film titles: THE TREE OF LIFE, FRIED GREEN TOMATOES, WINTER LIGHT.
The fourth way to title a film is to put a recognizable name alongside the title. For example, SUMMER AND SMOKE BY TENNESSEE WILLIAMS. One immediately recognizes that this will be a drama of sensitive nature often with a female protagonist.
A related story: In 1953, Dore Schary, MGM production head, was told that John Ford wanted to title his next film MOGAMBO. Schary said " MOGAMBO is a terrible title, but MOGAMBO STARRING CLARK GABLE AND AVA GARDNER is a terrific title!"
WAR HORSE BY STEVEN SPIELBERG alerts the audience what they are getting into given his distinct directing preferences, as are films by M. Night Shyamalan or Lars von Trier.
But until you are famous enough to put your name above your title, consider these three criteria when creating the title: Setting, Character and Theme/Genre.