Join us in New York City on September 26th - Register Here Today! 

 
WHAT IS STORY POWER?
Robert McKee's STORY-in-BUSINESS Seminar
Robert McKee's one-day STORY-in-BUSINESS Seminar brings you insights, actionable story knowledge and ready-to-use tools that will greatly enhance your communication and persuasion skills.
In an age of 24/7 information, nothing dates faster than factual content. Properly executed stories, on the other hand, offer the possibility of winning hearts as well as minds, while delivering an immersive experience around your products, services and brand assets.
A leader must persuade, and to persuade, a leader must master the art of storytelling. Story is both emotional and intellectual – it captures hearts as well as minds. In this one-day event, Robert McKee will guide business leaders and managers to mastery of this timeless art and so they can turn ideas into action.
In recent years, Robert has helped organizations as diverse as Microsoft, Nike, Hewlett-Packard and Siemens develop their evolving narrative game plans. He can do the same for you and your company as he will show you how story will connect with your audiences, both external and internal.
In a world growing ever more uncertain and demanding of human intelligence, Robert McKee's STORY-in-BUSINESS seminar will fire your imagination and ignite your organization's performance.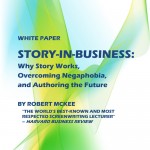 Click here to receive Robert McKee's FREE white paper on why story works in business, and his STORY-in-BUSINESS newsletter on how to incorporate story into your business!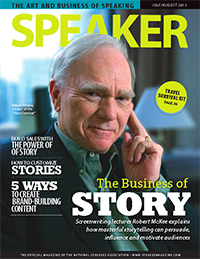 Click here to read Robert McKee's Cover Story on THE BUSINESS OF STORY in SPEAKER MAGAZINE (The National Speak­ers Association)
● "I thought the piece with McKee was one of the best articles in the past five years. Congratulations!"
● "Great article about Robert McKee!"
● "Your article and sidebar piece about Robert McKee was stellar and I thoroughly enjoyed reading it."
● "Excellent article in Speaker Magazine!"
● "Just wanted to let you know that I loved the article and was very appreciative that you interviewed and gave voice to someone outside the NSA inner circle. We need more outside perspective!"
Upcoming Seminars
New York City
September 26, 2014
Hunter College
Room West 714
695 Park Ave
New York, NY 10065

One day – 9:00 to 6:00
9:00  am -10:45 am
Session I
10:45 am -11:15 am
BREAK
11:15 am – 1:00 pm
Session II
1:00 pm -  2:00 pm
LUNCH (included in seminar tuition)
2:00 pm -  3:45 pm
Session III
3:45 pm -  4:15 pm
BREAK
4:15 pm -  6:00 pm
Conclusion
Event Partners:
For information on private one-on-one consultations and customized workshops, please contact mia@storylogue.com.
McKee is the world's best-known and most respected lecturer (in the storytelling arts).–The Wall Street Journal
McKee's teaching is critical to business success.–Phyllis Fogarty, Brand Manager at PEPSICO
Everybody teaches you parts, McKee teaches all.–Enid Langbert, Lawyer in New York City
The art of storytelling as part of persuasion – Robert McKee is the best.–Alexander Paufler, CEO & President of MERCEDES-BENZ (East)
Complete use of STORY-in-BUSINESS Seminar Outline
SESSION ONE.
STORY AND THE EFFECTIVE EXECUTIVE:
A. LEADERSHIP BY EMOTIONAL PERSUASION.
B. LEADERSHIP BY INTELLECTUAL PERSUASION.
C. LEADERSHIP AND THE PURPOSE-TOLD STORY: THE MERGER OF INTELLECTUAL AND EMOTIONAL PERSUASION.
To begin the day, McKee examines three primary tactics that underlie all human communication, persuasion and leadership from face-to-face conversations to mass marketing campaigns. He lays out the hidden strategies behind each technique to reveal why the simplicity of story trumps the others.
SESSION TWO.
SHAPING STORY: DESIGN AND EXECUTION.
A. BEGINNING: THE INCITING INCIDENT.
B. MIDDLE: PROGRESSIVE COMPLICATIONS.
C. END: CRISIS AND CLIMAX.
During the second session, McKee takes an in-depth look at the dynamic inner life of the purpose-told story. He takes the seminar behind the commonplace concepts of Beginning, Middle, and End, to explore story's essential components: Dynamic Values, Objects of Desire, Forces of Antagonism, Turning Points, Crisis, Climax and the Positive Outcome.
SESSION THREE.
EXECUTING THE PURPOSE-TOLD STORY:
A. FACE-TO-FACE STORYTELLING: CONVERSATION VERSUS PRESENTATION.
B. STORYTELLING AT A DISTANCE: MARKETING VERSUS BRANDING.
In the third session, McKee looks at performance. Whether an executive tells story in an elevator or over lunch, via Skype or in a board meeting, to sell a product or to position the corporation, face-to-face or on the internet, storytelling is always a performance. The successful telling combines preparation and improvisation.
CONCLUSION: THE LEADER AS THE AUTHOR OF THE FUTURE