Save 10%*
Get a package discount when you register for the full 2020 Spring Webinar Program.
WEBINAR - The Core Elements of Genre
Seminar Details:
Date: Wednesday, June 24
Time: 1:00 pm - 2:30 pm PT
This event can now be viewed as a recording. Access expires July 8th.
All writers are genre writers. Whether it's an action blockbuster such as AVENGERS: ENDGAME, or a crimedy like the excellent PARASITE, every story flows from a tradition of core events, characters, and values delineated by the genre in which it was written. The writer's first task is to identify the genre, or combination of genres that will inspire his or her creativity. The second is to master its possibilities.
Robert McKee returns for the final installment of his spring webinar program with The Core Elements of Genre. In this 60-minute online seminar, and 30-minute live Q&A, McKee dispels the myth that you can write outside of a genre, and teaches the principles involved in adhering to, and breaking, genre conventions.
This Live Webinar Includes:
Genre:
Story tradition, and how all writers are genre writers.
Conventions:
The necessary elements of story form.
Cliché:
Why writers should never write "off the top of their heads."
Core Elements:
The 4 key story elements every writer must consider.
30-minute Q&A:
Clarify your learning by having your questions answered live by Robert McKee.
Bonus Q&A Session
Date: Wednesday, July 1
Time: 1:00 pm - 3:00 pm PT
As a thank you for your commitment to studying and writing in these perilous times, Robert McKee is offering a dedicated 2-hour, online Q&A session with every webinar this spring.
If you register for the live webinar and bonus Q&A session but are unable to attend at the scheduled times, their respective recordings will still be available to watch at your convenience until July 8th.
Registration Questions?
Wondering which McKee Seminar is right for you? We're happy to help! Just give us a call or send us an email.
Getting Started
Robert McKee's webinars are hosted on Zoom.
We recommend that you install the free Zoom client, as it offers a more stable connection and better overall performance during the live webinar.
For more information, please consult our Webinar FAQ page.
Asking a Question
During the Webinar:
Throughout the webinar, you'll have the ability to submit your questions using the Zoom Q&A panel. Our moderator will collect and organize the questions during the webinar, and Robert McKee will answer as many as time allows during the Q&A period that follows.
Bonus Q&A Session:
After the webinar, you'll be sent an email inviting you to the bonus Q&A session the following week and encouraging you to submit your questions to us via email. Priority will be given to those questions submitted in writing, but as with the webinar, we will also be taking questions submitted live through the Zoom Q&A panel.
Webinar Recordings
Registrants will be emailed information on how to access the recording 24 hours after the conclusion of the live webinar. You can watch the recording as many times as you like during the access period.
All recordings for the Spring Webinar Program will remain accessible until July 8th.
All recordings for the Summer Comedy Webinar Series will remain accessible until August 31st.
Cancellations / Refunds
You can cancel any time
before the webinar
at no cost to you. Just let us know.
We want you to have the best learning experience possible, so we're here to help. Please contact us for assistance by emailing contact@mckeestory.com if you're having technical issues with Zoom.
No refunds will be issued after the live webinar has ended and you've been sent the link to the recording. As the recording can be played on so many different devices and systems, it should be possible to watch it on at least one of your devices.
For more information, please consult our Webinar FAQ page.
Save 10%*
Get a package discount when you book both STORY and GENRE DAY Seminars!
*This offer may not be combined with other discounts.
What is Final Draft?

Bundled Discount
When you purchase the software as part of a McKee Seminar Tuition Package you will receive a substantial discount courtesy of Final Draft. The digital download of the software will be made available within a week of your registration.
If you should need to cancel your registration, you will be refunded your tuition less an administrative fee of 10% and the full price of the Final Draft software.
Do I Need Final Draft For the Seminar?
This software is not required for any of our seminars, but it could be very useful as you go on to apply what you've learned in your writing.
What is Storylogue?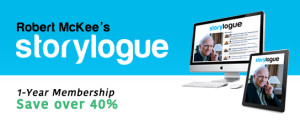 Storylogue is Mr. McKee's online learning library for writers – a writer's practicum. Currently, the site hosts over 1,500 videos that include new lessons (not covered in his STORY Seminar) and interviews between Mr. McKee and prominent industry professionals as well as Q&A sessions between Mr. McKee and students. These videos are excellent research and learning resources and you can preview the videos offered at Storylogue.com.
When purchasing a year's subscription as part of a Tuition Package, you receive a discount of over 40% on the standard annual membership rate. Alternatively, annual or monthly membership may be purchased from the site at any time.
Presently, the site is undergoing a massive upgrade to improve the search functionality but it won't affect your viewing enjoyment.
Can I Register For Someone Else?
Yes, but please ensure that you enter the intended attendee's registration details (First Name, Last Name, Email) so that their registration information and ticket will be sent to the correct recipient.
When you reach the payment screen, you may use your own personal information associated with your chosen payment method.
Can I Register a Group?
You may register as many people as you like, but at this time we ask that you register each person individually. (You can still use the same method of payment for each registration.)
Group Discounts:
If you're registering 5 or more people, you may be eligible for a discount. See here for details.
Do You Offer Discounts?
Yes! We're pleased to offer several discount categories to help support your learning. Applicability varies by event, so check the seminar details for the available discounts. See the full
FAQ page
for more information.
Category
Groups
Professional Union Members
Students
Repeater
Fellowship
Do I Qualify for the Repeater Rate?
Our special Repeater rate is based on prior attendance at a McKee Seminar of the same type. For example: If you attended the STORY Seminar in New York last year, you should be eligible for the Repeater rate on all STORY Seminars.
We will check our records to verify previous attendance once we receive your registration. If you are unsure, we encourage you to contact us here and we'll be happy to assist you.
What's a Deposit?
The $100/£100 non-refundable deposit option allows you to reserve a spot at the seminar. The balance is due two weeks before the seminar. If you do not pay in full by that time, you will forfeit this deposit.
What Happens if I Have to Cancel?
Seat Deposit
The Deposit option allows you to reserve a spot at the seminar by paying a non-refundable deposit of $100/£100. This deposit will be applied to the full price of your desired Tuition Package, the balance of which will be due two weeks before the seminar at the latest. If you do not register and pay in full by that time, your seat will no longer be reserved.
Seminar Tuition
If you cancel 10 days or less from the event date your full tuition will be forfeited, but you may apply it to a future McKee Seminar of the same type within one year of your first scheduled seminar. If you cancel more than 10 days prior to the event date, you have the option to to apply it to a future seminar within one year, or you can be refunded your money less a 10% fee that will be retained to cover administrative costs.
Final Draft
If you purchased Final Draft at a discounted price by bundling it with your seminar tuition, and find that you must cancel your registration, you will be refunded your money less our administrative fee and the full price of the Final Draft software.
I'm from out of town. Can You Recommend Accommodations?
Los Angeles
We organize a special discounted room rate for our attendees at the Sheraton Gateway LAX where the seminar is held. It's a five-minute courtesy shuttle bus ride between the Los Angeles International Airport (LAX) and the hotel. The discounted room rate is subject to availability. Please consult the seminar details for more information.
For other options near the Los Angeles venue, please click here
New York & London
For our New York and London seminars, please click here for options from budget to high-end hotels.