Save 10%*
Get a package discount when you register for two or more series from the Fall Webinar Program.
STORY CRAFT Webinar Series
Seminar Details: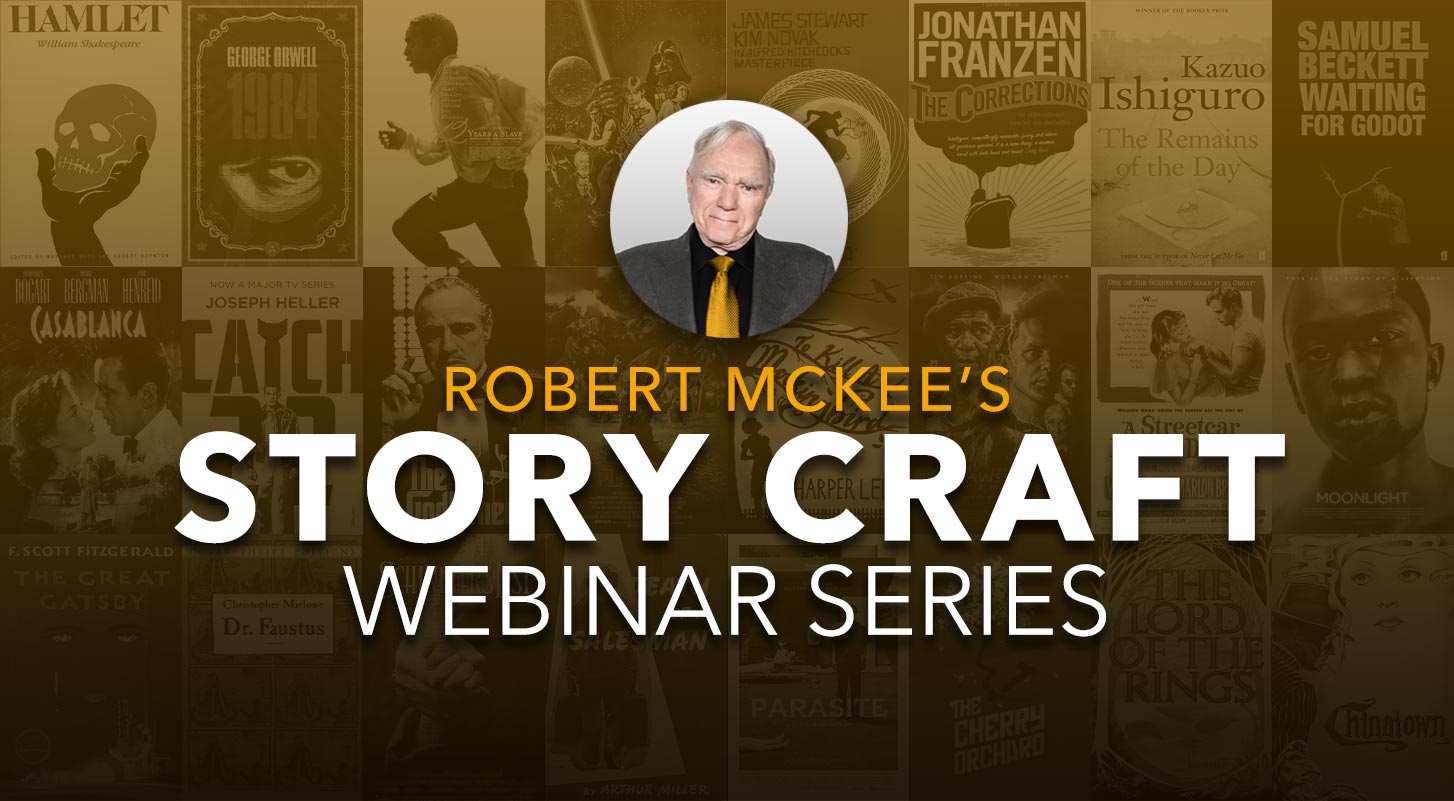 "Stories are equipment for living."
The world now consumes films, novels, theatre and television in such quantities and with such ravenous hunger that the story arts have become humanity's prime source of inspiration, as it seeks to order chaos and gain insight into life.
Our appetite for story is a reflection of the profound human need to grasp the patterns of living, not merely as an intellectual exercise, but within a very personal, emotional experience.
As a writer, you alone have the tools to craft the vehicle that carries us on our search for reality, our best effort to make sense out of the anarchy of existence. And now, more than ever, the world needs your stories.
Following the success of his Spring Webinar Program, Robert McKee returns online this fall with three brand new webinars on the story craft.
McKee's 2020 Story Craft Webinar Series:
Now available ON DEMAND!

The recordings of all six live events in the series are now available. If you weren't able to join us in September, you can now gain instant access and catch up at your convenience. (Access to the recordings expires November 30.)
In this series of three 90-minute lessons (+30 minutes of Q&A), and three exclusive 2-hour follow-up Q&A sessions, Robert McKee delivers the crucial insight you need to understand your work in the context of the story universe, to hook and hold the interest of your audience and to lift your story from a good telling, to a work of art.
PART 1:
The Story Universe
2-Hour Follow-up Q&A Session
Although the variations of story design are innumerable, they are not without limits. The far corners of the art create a triangle of formal possibilities that maps the universe of stories. Within this triangle is the totality of writers' cosmologies. To understand your place in the universe, you must study the coordinates of this map, and let them guide you to that point you share with other writers of a similar vision.
In Part 1 of the series, McKee teaches the principles that define the overall universe of story, so that you can better understand your place within it. Topics convered in this webinar include:
The Triangle of Event Design
Open vs. Closed Endings
Levels of Conflict
The Range of Protagonists
The Limits of Fictional Reality
30-minute Q&A Session
PART 2:
Story and the Reader / Audience
2-Hour Follow-up Q&A Session
Marketing may entice an audience into the theater, convince us to pick up a book or tune in to a show, but once the ritual begins, we need compelling reasons to stay involved. A story must capture interest, hold it unswervingly through time, then reward it at climax.
In Part 2 of the series, McKee delivers a masterclass on the principles and techniques needed to hook and hold both sides of human nature — intellect and emotion. Topics convered in this webinar include:
The Problem of Interest
Empathy vs. Curiosity
The Center of Good
Mystery, Suspense, Dramatic Irony
30-minute Q&A Session
PART 3:
Story as Art
2-Hour Follow-up Q&A Session
Every word you commit to the page has the potential to resonate with meaningful expressivity. Misused, it can leave audiences underwhelmed or worse, bored. But the master storyteller wields this power deftly and expertly, lifting their tale to its full potential, to become a work of art.
In Part 3 of the series, McKee teaches the difference between decorative images and enhanced expressivity, providing writers with the power to create image systems that will elevate their creative efforts to true works of art.
The Writer as Poet
Image Systems
External Imagery
Internal Imagery
30-minute Q&A Session